Last Minute Christmas Gift ideas for Coffee Lovers!
Posted by Jess Unkovich on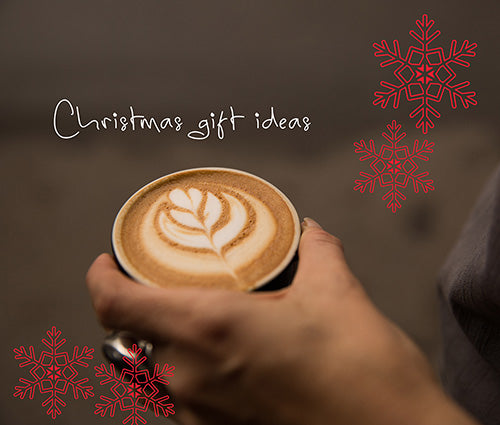 What is it about holidays that makes coffee taste better than usual? Is it the rich aroma of a seasonal roast that brings about cheer and fond memories? Perhaps it's simply the combination of your morning joe minutes before you head out for holiday shopping, its caffeine motivating your search for the perfect gift. Whatever the reason, this is the ideal time of year to embrace the joy that coffee brings.

Shopping for a coffee lover can be an intimidating venture. After all, they are the true connoisseurs here. There is no need to fear, as we have the perfect holiday gift guide to follow so you can impress the coffee lover or lovers in your life this Christmas.

On The Go!
Drinking coffee on the go has never been so trendy, especially now with all of the cool gadgets on the market! Entice your coffee lover with a stylish, reusable cup that is perfect for those with an on-the-go lifestyle. These reusable cups are a responsible way to consume coffee [war on waste] and will also keep their coffee hot and tasting fresh well after it is brewed. Take an extra step to customise it online to best suit their personality!   
For Home
Busy work weeks and weekends cause for lots of homebrewing. Help the espresso lover in your life add to their barista inspired set-up and purchase a Pullman tamper. Pullman tampers are 100% Australian and are the best on the market to assist them with their home coffee making skills. The perfect coffee comes from the perfect shot and these tampers are constructed with evenly distributed weight and proportions, allowing you to be in control of the weight placed on the grounds when tamping. You can also interchange the handles as wanted or needed to fit your style and grip best!

Aeropresses are another great addition for a coffee-obsessed loved one.   More conventional than the classic drip coffee maker, the aeropress slowly drips hot water into a filter filled with coffee grounds while the water absorbs the coffee taste. The Areopress is a compact unit, making it easy to store and is perfect for travelling –enabling you to enjoy good coffee anywhere you go! Tip – make sure you include some freshly roasted coffee beans to accompany their new areopress unit. If they don't have access to a hand grinder, buy small quantities and request them to be ground for an areoporess unit.
Ramp up those skills
Help your loved one take their coffee game to the next level by surprising them with a gift voucher allowing them access to one of our barista courses. After these courses, we guarantee you will benefit from their new found skills! This is one of those gifts that will keep on giving past this Christmas. ;)

Stay Social
Have a lot of coffee drinkers to shop for this holiday? Try Combining their gifts by planning a social gathering in your home or at your favourite local coffee shop. If you plan to host in your home, make a holiday meal and bake treats that incorporate coffee-inspired recipes. Send the surprise straight to their inbox with an evite that allows them to conveniently rsvp online. This event will double function as a gift and a time to catch up before or after the busy holiday season!

Conclusion
Impressing the coffee lover in your life is no easy task. We hope with the above few suggestions you will be bringing them smiles of joy when they open their Christmas presents this year.
Because we all know "life's too short to drink bad coffee"